**This post may contain affiliate and ad links from which I could recieve a small commission**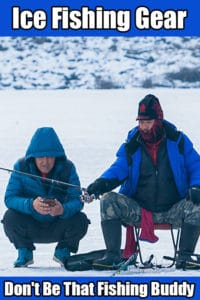 That Time Of Year Again
Frigid temps and the sight of mini-cities located where once was open water can only mean one thing, Ice Fishing is here, grab your ice fishing gear and hit the ice!
In the following scenario, are you the guy with the truck or the friend that is going to be picked up?
Brrr Will It Start?
Nothing like getting up at the crack of dawn, throwing your gear in the truck, and hoping the single-digit temps (sometimes negative) didn't kill the Battery.
If your lucky and your vehicle starts, You run back inside while you let your vehicle warm up.
Time To Head Out
You have the last of the coffee that didn't fit in your thermos.
After about 10-15 minutes, you look around make sure you have everything and you head out the door to go pick up your fishing buddy.
Between the coffee you drank down and the arctic temps, (thank you heater that takes forever to throw heat) you are wide awake and ready to go fishing By the time you get there!
Hello, Anyone Home?
You knock on his door. After about a minute of standing in the freezing cold you BANG on the door. A minute later the door slowly opens.
Now you're looking at a scruffy, half-dead, squinty eyed figure that slightly resembles the person that is your fishing buddy.
He mumbles something about the busted alarm, it sounds more like your vehicle did last week when the battery was dead.
You look around and see the coffee pot is not even turned on. His ice fishing gear is not by the door like it was supposed to be.
He stumbles back into the living room and you ask him where his fishing equipment is, He tells you he thinks it is still in the garage. He hasn't even looked at it since last spring when he put it away!
You tell him you'll go get it while he is getting his food ready and his coffee made.
You make it into the garage and spot an ice trap in the far corner.
After fighting your way thru carelessly abandoned clutter. You pick up the ice trap, it's busted.
After about 30 more minutes of hunting and coming up empty-handed you head back into the house.
Let's Go Ice Fishing
Your fishing buddy is starting to take on the appearance of the one you know.
You inform him you can't find his stuff, but for today he can use your extra equipment.
He gives a meek smile that makes you wonder if that was what his intentions were the whole time.
Below you will find some great deals on ice fishing equipment. Don't be that "Fishing Buddy".
Portable Ice Houses Are Easy And Convienent
Portable ice houses are not a requirement, but they sure are convenient when the temperature drops and the wind picks up. Sure, you can build or buy a solid structure ice house but due to the weight, it can be time-consuming to haul to the lake and set up before you can actually start fishing. You could set one up and leave it there all fishing season, but what if you want to try fishing other lakes and ponds?
With a portable ice house, you can even haul it to the lake in the trunk of your car, drag it out on the ice with your gear and pop it up in just a few minutes. When your done fishing, collapse it and haul it back home.
Ice Augers
Do I really need to write anything here? I mean you already know you need holes in the ice to fish after all. An ice auger is one of the faster ways to make those holes. An ice chisel is only good for partially frozen over holes someone else had augered the day before.
Ice Fishing Skimmer Scoops
A good skimmer scoop with a long handle will help you keep the ice out of your ice hole without getting your hands wet. It is always handy to keep one close by when you are jigging to keep the surface clear from ice build up.
Ice Fishing Traps
There are a wide variety of ice fishing traps. But at the end of the day, they all work the same way. They allow bait to be suspended at a depth of your chosen and send up a flag to get your attention once a fish takes the bait. However, sometimes the flag pops up due to an over active live bait, or a strong wind. But regardless, if you want to have multiple lines in the water at the same time, you will want some traps.
Ice Fishing Poles For Jigging
Want to stay in your ice house and fish while your traps are set around the outside of your shack? A short fishing rod is perfect for jigging. You can jig for regular game fish or put on some small jigging tackle and try to catch your own bait to use on your tip ups in deeper waters.
Live Bait Buckets
Pretty self explanatory, you need a place to keep your live bait and a bait bucket that holds water and offers oxygen is what you need.
Ice Fishing Tackle
What is the point of going fishing if you don't have the hooks, line, swivels, and spinners? Make sure you stock up on these as nothing ruins a fishing trip quicker then running out of hooks.
Ice Fishing Sled
So now you have all the fishing equipment you need to go ice fishing. The ice isn't thick enough to drive on yet or there is to much snow to drive thru. Do you really want to make multiple trips back and forth to where you wanted to fish and your vehicle. Don't worry, there are well built pulling sleds you can load up with your fishing gear and pull to your favorite fishing spot.
Ice Fishing Cleats
As you get older, you will appreciate these more and more. Ice cleats that easily and quickly slid onto your boots can help prevent painful falls on the ice. They can also help you out run the younger people in your group when a flag pops up. FLAG!